EXTERIOR PAINT SELECTION

Seventy-two percent (72%) of the eligible homeowners participated in the new exterior paint selection.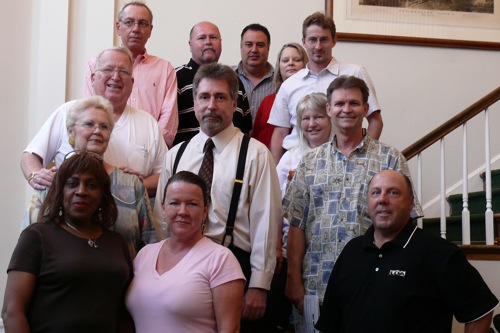 A very special thanks to all of the neighbors working together on this - Chris Combs and Kristen Mallory for their dedication and time spent selecting and testing colors both this year and in 2006 - over 60 colors were tested in this effort. Thanks also to those attending the paint selection meeting and providing the input that guided the selection of the paint color candidates; and thanks to those that posted signs, delivered newsletters, and sent e-mail notifications.


Q: What were the survey results?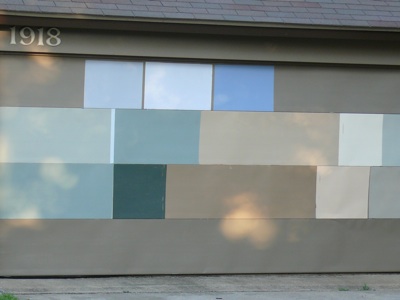 Results show that homeowners very clearly wanted to update the exterior colors - there was a strong negative reaction to keeping things the same. This was a bit surprising. Only 2 owners wanted to keep colors the same.

While there had been much discussion and hope to go to a lighter color, there was clear concern by some that we might be "overstepping". There were several comments by those voting for Toasty and Portabello that they wished we could go to a lighter color like Sands of Time but they did not think it was practical. One owner summed it up this way "It would be a nice change to go lighter but I am not sure it would look pretty."

Toasty/Foxblack received the strongest positive response and very little negative response and was the clear winner. There were a couple of suggestions to tweak the trim color.

Portabello had the second largest following - it was seen as "safe" by many - it was many homowner's second choice. It appears that it's strength and weakness were one in the same - it was seen by many as a small incremental improvement - to some that was great, to others it was not enough.

First Choice of Homeowners

---

60%
Toasty (D)
19%
Portabello (C)
8%
Sands of Time (E)
6%
Change the Trim Color Only (B)
4%
Toni Taupe (F)
3%
Keep it all the Same (A)
Note: 72% of owners voted
Note: If 2 first choices were indicated, each received a half a vote
Strong Dislike - Homeowners Mentions

---

28
Toni Taupe (F)
24
Keep it all the Same (A)
16
Change the Trim Color Only (B)
11
Sands of Time (E)
7
Toasty (D)
4
Portabello (C)
Note: Numbers represent owners. Some owners mentioned disliking more than 1 color - some mentioned none.
Q: Where were the colors options displayed - The paint color options selected by Chris Combs and Kristen Mallory are displayed on the garage of 1915 and 1918 Wilshire. Owners were encouraged to look at these colors in the morning and afternoon sun. There was an eight foot sample board that could be borrowed to hold up to the brick at individual homes.


Q: How will the Transition take place
- Ten to fourteen homes will be painted each year starting in 2009 and completeing in 2016.
Q: How was the decision made
-

A blog discussion was opened on May 22, 2009 to solicit comments on exterior paint color changes. The
blog
was up for 60 days (and remains open for comment). A general meeting was held on June 18, 2009 to discuss exterior paint concepts (see
meeting minutes
). During the month of June and July the paint committee tested 60 different colors on the garages and walls of 1915 and 1918 Wilshire and conversed with neighbors in the process. A survey was then provided to all homeowners the last week of July. Surveys were distributed by email, posted on doors, and mailed (off site owners). Owners responded by Internet, fax, and mail.
Board suggestions for selecting a color
| | |
| --- | --- |
| 1) | Select a color makes you happy - or at least it doesn't make you crazy. We all see color differently. Our dogs see mostly in black and white - so please don't consult with them or anyone wearing a plaid sport coat. |
| 2) | The community was built in three phases with three brick colors. The ideal color will pull on accents found in all three brick types or a t least not clash. |
| 3) | The windows all have dark brown window bars (not the standard white or silver) - this is very limiting. Darker colors probbaly work best with the these bars. |
| 4) | The window trim is rough cedar and the siding is 26 year old paperboard in fair condition with many imperfections such as warping, exposed nailheads, and saw blade marks on the trim. Darker shades are more likley to hide these imperfections - lighter colors tend to accentuate. |
| 5) | Significantly lighter colors like options E and F will require multiple coats of paint and therefore additional cost to apply the first time (when the color change is made). |
07/30/09